GDS supply a wide range of optical equipment including fibre patch cord, fibre connectors and fibre cable, hydra cables and fibre tooling from industry leading manufacturers. Our experienced and knowledgeable team specialise in providing a bespoke service with an emphasis on quality.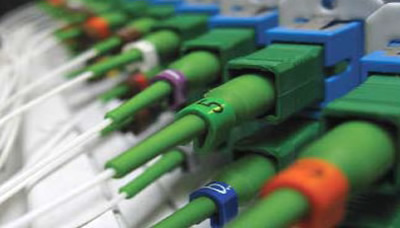 Bespoke Fibre Patch Cords
We stock an extensive range of fibre patch cords, including E2000/APC, E2000/PC, FC/APC, FC/PC, LC/APC, LC/PC, SC/APC, SC/PC, ST/APC & ST/PC in any length, most colours, and either simplex or duplex. We are also able to manufacture fibre patch cords to your precise specification using our in-house fibre assembly facility.
Fibre Optic Cable
We stock a large range of optical cables, patch cables, loose tube, break-out cables and much more. They are available in singlemode, simplex and duplex OS1, multimode OM1, OM2 and OM3. As well as supplying standard lengths, we offer a bespoke service to meet your precise requirements. All patch leads are manufactured in the UK using Bend Insensitive simplex and duplex cable.
Optical Connectors & Accessories
Our range of fibre connectors includes E2000, FC, LC, SC, SC/APC and ST, in both singlemode and multimode. GDS also offer field repair/replacement of damaged or broken connectors.
The E2000 connector series is one of the few fibre-optic connectors featuring a spring-loaded shutter, which fully protects the ferrule from dust and scratches.The shutter closes automatically when the connector is disengaged, locking out impurities, which could later lead to network failure, and locking in potentially harmful laser beams. The connector is easy to install, with a push-pull latching mechanism, which clicks when fully inserted.
The FC connector incorporates a physical contact (PC) pre-domed fibre end face that reduces back reflection over a flat end face ferrule. GDS also offer angled polished physical contact (APC) connectors and adaptors, which are manufactured using an 8 degree angle in the polish, thereby reducing the issue with back reflection.
The LC connector is a small form factor (SFF) connector and is ideal for high density applications. The connector has a zirconia ceramic ferrule with a PC end face and provides optimum insertion and return loss. The LC connector is used on small diameter mini-cordage (1.6mm, 1.8mm & 2.0mm) as well as 3.0mm cable.
The SC connector is well known for its locking mechanism that gives an audible click when pushed into the adaptor. This push-pull design prevents rotational misalignment. To reduce the unwanted back reflection further GDS offer the FC/APC connectors and adaptors.
The ST connector has a bayonet style housing and a long spring-loaded ferrule to hold the fibre. These connectors are available in both multimode and singlemode.

Hydra Cables
We stock a range of Hydra cable assemblies, from 8 to 24 core with breakout glands from 1 metre up to 2.5 metres, with all connector types and bespoke lengths. Our standard outer colour is yellow and with yellow tails.
Fibre Optic Tools
We will soon be supplying a range of optical tooling for field engineers, including fibre optic stripping tools, visible fault locators and test kits.